365 days a year our whole team works to make sure our farm produces Canada's best produce, which would put it in the running for the best anywhere. we do a thousand things all so we can deliver you the best farm produce in alberta.
Find your nearest location
---
Farm direct.
Diamond Sun Farms is a little different than some of the other meal companies out there. We don't necessarily carry as many products, but we're experts in what we sell. That's because our produce is farmed on our land in Southern Alberta. We harvest our potatoes and garlic like we've done for decades, and now we're bringing them directly to you. No stops along the way. No marked up prices either. No expensive freight from sourcing product 1000 kilometers away. Hugely reduced carbon footprint. Re-useable burlap bags. We do things just like it used to be in the days of roadside stands, but with a little bit more modern technology. You're still dealing directly with the farmer who ploughed the soil and grew your food. Over time we will raise other grocery items but believe in doing it right, doing it in steps!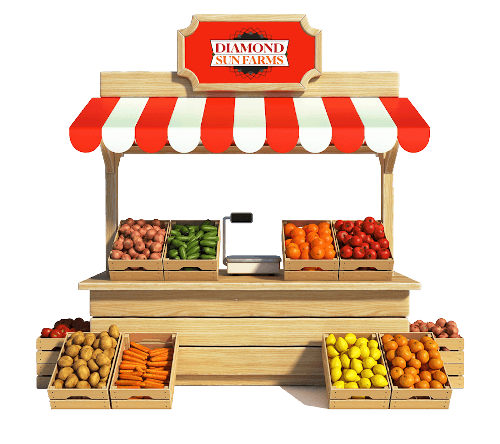 Tuesday, September 8
10:00 AM
‐
12:00 PM
Wednesday, September 16
10:00 AM
‐
2:00 PM
location

Bow Island

49.875871

-111.379061

Join us at Centennial Park

https://dsfpreview.netlify.app/location/bowisland/

location

Medicine Hat

50.026021

-110.679640

https://dsfpreview.netlify.app/location/medicinehat/

location

Lethbridge

49.690370

-112.790217

We'll be making regular visits to Lethbridge on Wednesdays

https://dsfpreview.netlify.app/location/lethbridge/

vendor

Ralph's Texas Bar & Steakhouse

/uploads/ralphs.jpg

Medicine Hat

https://ralphsbar.com/

vendor

Argos Restaurant

50.010640

-110.649697

/uploads/argos.jpg

Vendor

3065 Dunmore Rd SE, Medicine Hat, AB T1B 2H2

https://www.argosrestaurant.ca

vendor

Udels of Strudels by Sue Moose Lodge

50.031337

-110.707483

/uploads/MooseLogo.png

Vendor

901 8 St SW, Medicine Hat, AB T1A 4M7

http://lodge1073.moosepages.org/

vendor

Peter's Family Restaurant

49.869014

-111.368459

/uploads/peters.jpg

Vendor

801 6 St E, Bow Island, AB T0K 0G0

https://www.facebook.com/pages/category/Restaurant/Peters-Family-Restaurant-Bow-Island-107501444252348/
---
Wholesale Solutions
Diamond Sun Farms Inc. has the quality product and service to fulfill all of your restaurant and catering needs!! Serve up delicious food directly to your customers! Please contact us directly for pricing at 403.634.4463. We are here for you!!!
We've launched
DIAMOND SUN FARMS INC. is here and ready to serve you delicious products from the farm right to your table!!
Partner with us
---
If you'd like to carry Diamond Sun Farms produce in your retail location, we provide solutions including preferred pricing and convenient order management and fulfillment. We ship our product in various size burlap bags and boxes. If you produce a product in a category that would fit with Diamond Sun Farms we would like to talk with you about sharing our web and distribution platform to bring more products to our customers.